This year, I overcame my compulsion to create the "perfect" Christmas. For too many years, I over-bought, over-wrapped, over-decorated and over-everything-ed, attempting to over-compensate for Wingman's dislike of my Uber-Christmases and his drinking. Every year we were like two speeding Polar Express freight trains heading towards each other with the same disastrous results.
There was a one year reprieve in 2012 with Wingman's death and Superstorm Sandy hitting right before Christmas. But going back home in 2013 allowed me to add something new to my holiday mix: guilt. My sons now had NO father rather than an alcoholic one, and I reverted to over-buying /wrapping /decorating /cooking/etc. And I was frustrated when these kids didn't seem to appreciate my efforts. An old client from our deli/catering days suggested that I put some of my energy to better use volunteering with her and her husband, but I declined: some of our ex-friends were very involved in their group and it was still too painful to see them. I know...wah-wah boo hoo. I needed to get over myself.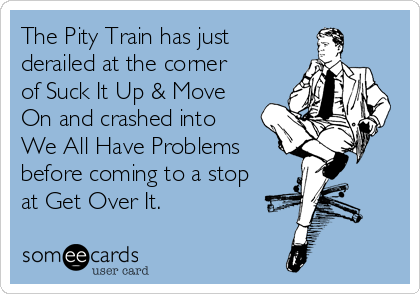 The economic climate of retail in 2017 was so bad for mall stores that I feared that mine wasn't going to survive, which would probably mean unemployment again. I was in a rut personally and professionally, so I looked up that old client and asked how to join that volunteer group. I spent my first nights taping pump bottles of lotions and packing them back in boxes so they wouldn't leak. Having never worked on an assembly line before, I figured if nothing else, I could spin it somehow to use in my resume.
This group only allowed three first year volunteers to work each entertainment event, and I was eager to start. On my first bus trip (to a center in south Jersey for developmentally disabled adults) I was given bus protocol: the musicians sat in the back of the bus and volunteers sat up front. Volunteers would be carting the food, the props and the cases of duffel bags filled with sweatshirts, socks and personal hygiene products for the people they served. Musicians would carry their instruments...like drumsticks. And microphones. Oh, and the leader was quick to tell me that musicians didn't talk to volunteers...all except one-a nice guy who actually treated the volunteers like we were valued. The leader said she would be happy to introduce me to that guy as he was a personal friend of hers. More about that later.
The events were a blast. To see adults get excited about The Grinch, or Santa was joyful. To dance and spin children in their wheelchairs was heartwarming. But I was also totally ignored by a guy who use to be part of my posse...and well, that still sucked.
The last event I worked in 2017 was actually seven shows in a row for developmentally disabled children, teens and adults, We were all in the school's kitchen when "that nice guy" walked in. It was like seeing Norm in Cheers-everyone called for him and he knew everyone's name. When he saw me, he came over and gave me a big hug. There was an audible gasp from the above leader who asked how I knew him. I replied "Him?
He was in my weddin
g.
And once set my hair on fire.
" Score one for the new kid-no introduction needed.
This year gave me the opportunity to volunteer every weekend in November and December. My favorite places were veteran's homes where the residents ranged from WWll seniors to Afghanistan vets suffering from PTSD. I met a 95 year old guy named George who was in the invasion at Normandy and was the spitting image of my dad. I made him promise to be there when I come back next year. Then there was Lee, the Vietnam double amputee with the great wheelchair dance moves. We danced to "My Girl" and he said it was the first time in a long time he was out on the dance floor. Bobby was a two time Bronze Star winner who couldn't look anyone in the face and missed his wife. Miguel was training his Malinois to be his service dog after attempting suicide. I realize now just how much we owe our veterans, and how little they really get from our government.
I also liked an event for drug and alcohol rehab residents. I "adopted" a table of guys who were mostly from Philly and south Jersey. While learning about them, one guy told me that he has nine children. I asked him if I could give him some motherly advice, and he agreed. They all listened intently as I leaned in and said "put that thing in your pants AND KEEP IT THERE". The rest of the guys cackled, and called me Mom the rest of the day.
That was also the first time I dressed as a character. I discovered my inner ham as The Grinch, Frosty and Rudolph. At one event, I appeared as Elmo to my former neighbor's Cookie Monster. We only had one song for me to quickly become Frosty to his Grinch. As we ran to the side stage he said "I'll undress you first and then you undress me". I stopped dead in my tracks and said "The last time someone said that to me was a long time ago and alcohol was involved". Silly fun.
And now it's over for the year. I will miss volunteers like Mary, who adored children and who I greatly admire for going to Haitian orphanages every January if just to hug the babies. Rocky, with her cool demeanor even when things go wrong (like me dropping a box of 10 dozen dinner rolls). Rene with her crazy costume and delicious brownies. And another Mary, who played the lead as Catherine in Phantom on Broadway, sang sweetly and never missed an opportunity to hug every dirty, smelly homeless person she met. I will laugh, remembering the little power struggles I witnessed, glad to be "just a volunteer". I learned that musicians DO help with carting and serving...especially when the founder is leading the band. And I will miss the Christmas songs that still make me smile.
The thing that makes me happiest though, is that my oldest son, seeing me tired but happy after long trips said that he would like to volunteer next year.
Tonight, I feel like celebrating New Years for the first time in quite a few years. A friend is having a party for misfits, and I'm so glad to be invited. Because, like the groups's opening and closing song "Nobody Ought To Be Alone On Christmas."
Which goes double for New Years Eve.
Cheers to a great 2019.
Me and my favorite Santa.
Me as Rudolph. The most difficult costume to see out of-The eye holes are too high and the mouth is too low.
Reconnecting with an old friend who knows that face painting isn't my strongest suit.
Dancing with a homeless Navy vet who got a hot meal, a warm coat and a little fun.
With another neighbor who volunteers. She face painted-I served hot dogs.